It's beginning to look a lot like Christmas with this cute little notepad I just made. I was feeling crafty today and wanted to play in my craft room and here's what I came up with...
I had this cute paper from last year's Christmas Card batch and the ribbon was used to wrap one of my gifts from a previous year. Talk about recycling - LoL!
This notepad is also getting a lot of buzz - thanks to Stephanie over at "Under the Table and Dreaming" blog who featured my creation on the Sunday Showcase.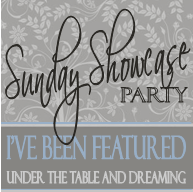 Now let's get to crafting...
What you'll need:
cardstock

ribbon

paper

scoring tool

rubber cement

binder clips

paper trimmer/scissors

ruler

double-sided adhesive/glue
So, let me tell/show ya how I made the notepad and the cover:
1. I started out with 10 - 8.5 x 11 sheets of paper that I cut in half (straight down the middle), then turned those same sheets 90 degrees and cut down the middle again. You should end up with 4 small sheets per cut page for a total of 40 sheets. They'll each measure 4.25 x 5.5.
2. Gather those 40 sheets and stack them evenly. Then, using the brush included, apply your rubber cement evenly across 1 edge of the stacked sheets. This will create the "spine" of the notepad and allow you to tear away sheets 1 by 1.
3. Use something heavy to apply pressure as the rubber cement dries. I chose to use these handy little binder clips - they'll keep the sheets together as the cemented edge dries. Be sure to give it at least 12-24 hours to dry, then remove clips.
4. Choose a decorative cardstock and cut it to 8 and 3/4" x 5 and 9/16". Then, score the cardstock at 4 and 3/8" and again at 4 and 1/2". Fold at the scored lines. Apply a double-sided adhesive to the back side/last page of the notepad and place inside of the cardstock cover (rubber cemented edge should be against the scored/spine of the cover. Pick your favorite ribbon and cut to about 24".
5. Wrap ribbon and tie. VOILA! There you have it. Use your notepad for to-do-lists, grocery list or even Christmas gift list.
ENJOY!!
P.S. Check the blog hops tab (at the top of the page) to see where I've hopped today.